2017: 25th Anniversary of PowerPoint 3.0
PowerPoint 3.0 was created at Microsoft's Graphics Business Unit in Silicon Valley over the five years 1987‒1992, where I was the head of the new Microsoft group during that entire period. The Windows version shipped in May 1992 (announced on the same day as Windows 3.1) and the Macintosh version in September 1992. Following on some interim releases, PowerPoint 3.0 marked the completion of the full original product vision, and turned out to be the basis for continued evolution—so far, over the last twenty-five years. PowerPoint 3.0 was localized into all major languages very rapidly, and soon became the international standard for presentations; it quickly achieved a dominant market share worldwide, which has been maintained ever since.
This picture was taken in the lobby of the Microsoft Graphics Business Unit building in Silicon Valley, at 2460 Sand Hill Road, Menlo Park, California, in the hills above Stanford. The artwork glimpsed to the left of the group is Giufà, la luna, i ladri e le guardie, 4X (1984), by Frank Stella, mixed media on canvas, etched magnesium, aluminum, and fiberglass, now in the collection of the San Francisco Museum of Modern Art. To the right is Untitled (1981), by Charles Arnoldi, acrylic paint on tree branches, now in the Anderson Collection at Stanford University. These were just two out of more than a hundred important contemporary artworks (valued even then at over $100 million) which were on display in the Graphic Business Unit's offices, and lent an appropriate dynamism to our public areas and conference rooms.
Pictured, identified by order of joining: (1) Bob Gaskins 7/5/84, (2) Dennis Austin 10/22/84, (3) Tom Rudkin 5/1/86, (6) Kathi Baker 2/28/87, (8) Aniko Somogyi 8/10/87, (9) Dennis Abbe 10/26/87, (11) Bob Lagier 12/16/87, (13) Tuan Nguyen 3/14/88, (14) Bob Safir 3/14/88, (15) Rick Hawes 3/28/88, (17) Judea Eden 7/18/88, (18) Ron Ullmann 8/15/88, (19) Don Miller 10/3/88, (20) Barb Jernigan 10/24/88, (21) Ralph Peterson 12/5/88, (22) Nelia Craig 1/24/89, (23) Lynette Moore 2/6/89, (24) Andre Brogli 3/1/89, (26) Connie Clark 3/13/89, (28) Cathy Harris [Belleville] 6/19/89, (29) Dave Parker 6/19/89, (31) Charleen Mininfield 7/10/89, (32) Lucy Peterson 10/23/89, (33) Kathleen Richards 11/6/89, (34) Nola Donato 11/27/89, (35) Darrell Boyle 3/21/90 [also pre-1.0], (36) Kathy Friend 4/4/90, (37) Linda Fitzgerald 6/20/90, (39) Jim Bartram 7/15/90, (40) Laura Tillett 7/23/90, (41) Paul Warrin 8/6/90, (42) Yalin Chen 9/14/90, (43) Bethann Martin 9/14/90, (44) Bruce Lee 10/1/90, (45) Amy Whitehurst 10/26/90, (46) Cindy Goral 11/8/90, (47) Bronwen Boynton [Martin] 11/8/90, (48) Alice Wang 12/3/90, (49) Eunice Yan 1/2/91, (50) Pierre Aoun 1/7/91, (51) Dan Hoffmann 2/4/91, (52) Anders Kierulf 2/19/91, (53) Kim Kinzie 2/19/91, (54) Starlene Burgett 2/19/91. Not pictured: (12) Sharon Meyers 1/25/88, (55) Dave Kesterson 4/19/91, (56) Millani Lew 6/24/91, (57) Brendan Busch 7/1/91, (58) Christoph Ammann 9/2/91, (59) Sue Ann Pratt 9/9/91, (60) Annette Kronmiller 9/19/91, (62) Glenn Hobin 10/21/91 [also pre-1.0], (63) Roz Ho 10/23/91, (65) George Santino 10/31/91, (66) Brian Jackson 11/25/91, (67) Dorothy Adams 12/20/91, (69) Hannes Ruescher 8/12/92, (v) Judith Maurier (Publishing Power), (v) Sandy Beetner (Genigraphics), (v) Rosemary Abowd [Schwendler] (Genigraphics).
Update: A reader familiar with the team writes to point out that, out of the list of 60 names above, 41 people were in technical engineering positions (development, program management, or quality assurance): 22 men (54%) and 19 women (46%). The reader notes: "That was a very unusual balance in 1992, and would still be unusual today."
The long-term success of PowerPoint is based on the foundation of PowerPoint 3.0, but of course it has depended on many people beyond the core team. When PowerPoint 3.0 was under development at the Graphics Business Unit, it also relied on contract publication designers, artists, and writers from Publishing Power; on contract designers, artists, and testers from Genigraphics; on contract engineering from Bear River Associates and testing laboratories; and on hundreds of people in functional groups at Microsoft headquarters and at the international subsidiaries. Over the following twenty-five years, it has depended on the continuing superior efforts of thousands of other Microsoft people, who have improved PowerPoint and renewed it through the appearance of new platforms and repeated technological revolutions. If the PowerPoint product had been ignored and allowed to become obsolete, it would now be as long-forgotten as most of the other products introduced twenty-five years ago into that very different world.
2012: 25th Anniversary of PowerPoint 1.0
PowerPoint 1.0 was created at the startup Forethought, Inc., in Silicon Valley over the three years 1984‒1987, where I invented the idea and managed its design and development. Although initially planned for Windows, the first version was shipped for Macintosh on 20 April 1987. During its development, PowerPoint attracted the first venture capital investment ever made by Apple, and then soon after shipping it became the first significant acquisition ever made by Microsoft, who set up a new Graphics Business Unit in Silicon Valley to develop it further. The small group of creators from the startup joined Microsoft and continued their work on PowerPoint, aiming to complete the full product vision which couldn't be included in the first release.
Sweating Bullets:
Notes about Inventing PowerPoint

"PowerPoint was the first presentation software designed for Macintosh and Windows, received the first venture capital investment ever made by Apple, then became the first significant acquisition ever made by Microsoft, and is now, twenty-five years later, installed on over one billion computers worldwide."

"Robert Gaskins (who invented the idea, managed its design and development, and then headed the new Microsoft group) has written this book to commemorate the twenty-fifth anniversary of PowerPoint, recounting stories of the perils narrowly evaded as a startup, dissecting the complexities of being the first distant development group in Microsoft, and explaining decisions and insights that enabled PowerPoint to become a lasting success."

Published by Vinland Books 2012,
Hardcover 6" × 9", 512 pp., $35.00
(ISBN: 978-0-9851424-0-7)
Full PDF searchable, 512 pp., Free
(ISBN: 978-0-9851424-1-4)
Paperback 6" × 9", 512 pp., $17.99
(ISBN: 978-0-9851424-2-1)
Ebook for Kindle (all platforms), $2.99
(ISBN: 978-0-9851424-3-8)
Ebook EPUB

(Google, Apple, Nook)

, $2.99
(ISBN: 978-0-9851424-4-5)



Where to Buy


Hardcover and paperback formats are available worldwide at Amazon.com, Amazon UK, Amazon France, Amazon Germany, Amazon Spain, Amazon Italy, Amazon Canada, Amazon Japan, Amazon China, Amazon India, or buy from Barnes and Noble, or buy from booksellers around the world via Abebooks, or find the book from a local independent bookstore via Indiebound, or order online with free worldwide shipping to over 100 countries.

Ebook formats are available worldwide through Amazon Kindle stores (US, UK, France, Germany, Spain, Italy, Canada, Japan), Google Play stores (US, UK, Australia, Brazil, Canada, France, Germany, Italy, Japan, Korea, Russia, Spain), and Apple iTunes stores (US, UK, France, Germany, Canada, Australia).

Full PDF format (fully searchable and with links to references) is available worldwide for free download here, www.robertgaskins.com/powerpoint-history/sweating-bullets/gaskins-sweating-bullets-webpdf-isbn-9780985142414.pdf.

PowerPoint 1.0 for Macintosh 1987
T-Shirt 25 Year Re-Issue

The original pre-Microsoft packaging for PowerPoint 1.0 for Macintosh, as shipped by Forethought on 20 April 1987. Now re-issued as a T-shirt for the 25th anniversary of PowerPoint.

T-shirts by American Apparel; choose any of 21 T-shirt colors, light or dark, in sizes and styles for men and women. High quality printing by RedBubble.

Order from RedBubble for $20.98
plus shipping, available worldwide.

PowerPoint 1.0 for Macintosh 1987
Tote Bag

The original pre-Microsoft packaging for PowerPoint 1.0 for Macintosh, as shipped by Forethought on 20 April 1987. Now re-issued as a tote bag for the 25th anniversary of PowerPoint.

Choice of sizes, 13 inches (330mm) square, or 16 inches (405mm) square. Same image available as throw pillows, 16 inches (405mm) square, 18 inches (460mm) square, or 20 inches (510mm) square. High quality printing by RedBubble.

Order from RedBubble for $18.97
plus shipping, available worldwide.
Want a signed copy of the book? You can get a free personalized bookplate, hand-signed by the author, to be pasted into your book. Just send an email note and request to , and include (1) the name and address to which you want the bookplate sent, and (2) if you'd like any (necessarily brief) inscription.
New PowerPoint documents on the web. The book Sweating Bullets: Notes about Inventing PowerPoint cites and quotes from a number of previously unpublished documents, mostly written during the early development of PowerPoint and during the acquisition negotiations with Microsoft. Nearly all of these private documents are now on the web, in searchable PDF format, along with the full text of the book, also searchable and with hyperlinks. List of unpublished documents from PowerPoint history.
| | |
| --- | --- |
| | |
| 1968–1978: | Studied and practiced computer science, especially applications to research in humanities (literature, art, music) and linguistics, at UC Berkeley |
| 1978–1984: | Set up and managed a new computer science research section for an international telecommunications R&D laboratory near Stanford |
| 1984–1987: | Invented PowerPoint, the first product to attract strategic venture capital from Apple and later the first significant acquisition made by Microsoft |
| 1987–1993: | Headed Microsoft's business unit in Silicon Valley, managing the growth of PowerPoint to $100 million annual sales worldwide on Mac and Windows |
| 1993–: | Retired, moved to London, restored a historic home in Westminster, researched music history in British libraries and museums, studied the concertina. Created authoritative websites about concertina history to draw together current research, after 10 years moved back (mostly) to San Francisco |
| | |
| --- | --- |
| | San Francisco and London |
| Retired | March 1993— |
Soon after I retired, my wife and I moved to London, where we fully restored an 1890 Victorian "mansion flat" in central London close by Buckingham Palace and № 10 Downing Street (pictures). I became interested in the concertina, the only native English musical instrument and the high-tech musical sensation of the Victorian age, and learned how to play antique examples of the Maccann duet concertina, a nearly forgotten late-Victorian refinement. I studied its history, did extensive research at British research libraries and museums, and published research articles. Life member of the London Library.
I've recently built an authoritative reference library website at www.concertina.com which has gradually expanded to present the work of over a dozen leading scholars plus that of many occasional contributors and collections of historical documents. At the same time, I carried out a project for the Horniman Museum in London to digitize parts of their concertina history archives, now free online at www.horniman.info. The Concertina Research Forum was founded to facilitate interaction among researchers, and I hosted an international meeting of the CRF in London (June 2002). The BBC World Service consulted me as a principal resource for the programme "The Concertina Man" (September 2004) to commemorate the bicentenary of Sir Charles Wheatstone's birth. I was elected an Honorary Life Member of the International Concertina Association, London, in November 2005.
We lived most of each year in London for ten years (1994–2004), then moved back to live full-time in our 1882 Victorian house in San Francisco that we had purchased in 1987.
Concertina Library, www.concertina.com
Documents for the study of English, Anglo, and Duet concertinas: history, instruction books, sheet music, patents, technical papers, rare periodicals, and new research by many leading scholars. Full texts to read, download, and print. See also: recent articles by

Robert Gaskins

.
| | |
| --- | --- |
| Microsoft Corporation | Menlo Park, California |
| Director & General Manager, Graphics Business Unit | July 1987—March 1993 |
As the creator of PowerPoint I joined Microsoft to be the head of its newly-acquired Graphics Business Unit (GBU), the first business unit outside Redmond, reporting to Bill Gates (later to the innovative manager Mike Maples). I retained full P&L responsibility, with local control of product strategy, budgets, facilities, recruiting, compensation, capital equipment, software development, development tools, quality assurance, marketing, advertising, PR, manuals, internationalization, and worldwide sales liaison. We continued working in the style of a startup and at the same intensity for as long as I was there, through the first three generations of PowerPoint.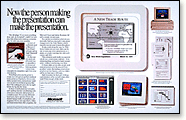 PowerPoint 1.0 (for Mac, April 1987) produced as output black-and-white overhead transparencies (together with speaker's notes and audience handouts). PowerPoint 2.0 (for Mac, May 1988, and for Windows, May 1990) added output of professional 35mm color slides including online transmission to overnight imaging and processing by Genigraphics. PowerPoint 3.0 (for Windows, May 1992, and for Mac, September 1992) added output of live video color slideshows including slide transitions, builds, animations, and synchronized sound and video clips.
These first three PowerPoint versions completed the basic product functionality which has been refined in further releases since then. They were shipped in over two dozen national languages, and won scores of awards worldwide. Sales grew steadily to a 1992 market share of 63% of presentation graphics software sales on Windows and Mac worldwide against seventeen competitors, with sales of over one million copies of PowerPoint per year (1992).
PowerPoint revenues grew on my watch to well over $100 million annually (in 1992), about half from outside the U.S. We were one of the most profitable units at Microsoft, earning an operating profit margin of 48% of revenues (Microsoft's operating margin for the same period was 35%, the software industry average was 11%). After I left, others from the original team continued working and ten years later, by 2003, PowerPoint revenues for Microsoft exceded $1 billion annually. By then PowerPoint was being used by over 500 million people worldwide, with over 30 million PowerPoint presentations being made every day. In 2010, Microsoft announced that PowerPoint was installed on over a billion computers worldwide.
PowerPoint was packaged and sold as a stand-alone product prior to the creation of "Microsoft Office," which began (in 1989 for Mac and in 1990 for Windows) as a transparent overwrap around the separately-manufactured boxes of Word, Excel, and PowerPoint. Only after the success of the physical bundle were the three applications progressively revised to work more alike, provided with a single install program, and packaged together (as well as sold separately). Still later the parts of Office began to be specified and developed as an integrated product, with advantages both to users and to Microsoft. It was this innovation that also required changes to the Microsoft organization, away from the loosely-coupled confederation of independent application business units.
While I headed the Graphics Business Unit we grew from 7 people to nearly 100 people, (about 70 employees and 30 vendor personnel). Microsoft grew from about 1,200 people to 12,000 during the same period. As with any startup, credit for the long-term success of PowerPoint is due to those who were there early to set the direction; the "Wizards of Menlo Park," the 119 people who worked on PowerPoint from the beginning till the end of the years on Sand Hill Road (1984 to 1994), are listed as "all the wizards in order of appearance" in the GBU Tenth Anniversary of PPT 1.0 document.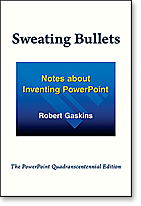 The full story of PowerPoint is chronicled in the book Sweating Bullets: Notes about Inventing PowerPoint, by Robert Gaskins (Vinland Books: 2012). This book was written to commemorate the twenty-fifth anniversary of PowerPoint, recounting stories of the perils narrowly evaded as a startup, dissecting the complexities of being the first distant development group in Microsoft, and explaining decisions and insights that enabled PowerPoint to become a lasting success.
PowerPoint has been frequently profiled in the media, most notably by Lee Gomes in his column for The Wall Street Journal to mark the 20-year anniversary of PowerPoint (June 2007). This was followed by an official celebration at Microsoft, and led to a column in Communications of the ACM which included some PowerPoint history. A very good account including live recorded interviews is by Peter Day and Neil Koenig in a radio programme (transcript) for BBC Radio 4 "In Business" and the BBC World Service (February 2002). For the German business magazine Brand Eins, Steffan Heuer interviewed the "revolutionaries of office software": Charles Simonyi for Word, Dan Bricklin and Bob Frankston for VisiCalc, and Bob Gaskins and Dennis Austin for PowerPoint (Issue 3, 2002). The New York Times reported the details of Microsoft's purchase of Forethought (July 1987). Many of the early PowerPoint project documents used as source materials for these articles and programmes are now archived online for public access; the documents are described and linked in a box in the column to the right. Further press coverage is linked in a box a bit further down in the same column.
| | |
| --- | --- |
| Forethought, Inc. | Sunnyvale, California |
| Vice President, Product Development | July 1984—July 1987 |
I joined Forethought when it was a year-old startup that had stalled out and was looking to do a re-start around some new business plan, the focus of which soon turned out to be my PowerPoint idea. I had responsibility for our product strategy, all development, product marketing, publications, and manufacturing. Within a month I had written the original PowerPoint description, the first of a succession of product marketing documents refining the PowerPoint product definition. A couple of months later I was able to recruit Dennis Austin (from Gavilan and before that Burroughs) to head the software design and development for PowerPoint. About eighteen months later we attracted Tom Rudkin (from VisiOn and before that Intel) to head the work on a future Windows version of what was being designed and implemented first for Macintosh. We raised about $3 million in new money for the re-start from top-tier venture capital investors led by New Enterprise Associates (Dick Kramlich and Tom McConnell) and Lamoreaux Partners (Phil Lamoreaux), plus Abingworth plc (U.K.) and the very first venture investment ever made by Apple Computer's strategic investment group (Dan Eilers). An outside board member was Bob Metcalfe, inventor of Ethernet and chairman of 3Com.
While we developed Powerpoint, our company operations were simultaneously built up by contract publishing and selling of software belonging to other developers, so that we were ready and able to sell and ship over $1 million worth of PowerPoint on the day of its initial release—unprecedented for a Macintosh application. Three months later, PowerPoint history was sharply changed by an offer from Bill Gates to buy PowerPoint and to turn Forethought into Microsoft's Graphics Business Unit, to be located in Silicon Valley. The offer was orchestrated by Jeff Raikes, who had managed to convince Bill that presentations would become a major application category and that just adding a feature to format Word outlines on overheads (Bill's first thought, according to Jeff) would not be competitive. We accepted the offer and became Microsoft's first significant acquisition. The price was $14 million in cash, which returned $12 million to our investors in under three years. I and all the rest of the PowerPoint people, plus many of our other Forethought employees, became Microsoft employees, just a year or so after the Microsoft IPO.
The New York Times reported on 31 July 1987:
company news

Microsoft Buys Software Unit

special to the new york times

The Microsoft Corporation announced its first significant software acquisition today, paying $14 million for Forethought Inc. of Sunnyvale, Calif.

Forethought makes a program called Powerpoint that allows users of Apple Macintosh computers to make overhead transparencies or flip charts. Some industry officials think such "desktop presentations" have the potential to be as big a market as "desktop publishing," which involves using computers to lay out newsletters and other publications. Microsoft is already the leading software supplier for the Macintosh.

The personal software industry has been buzzing with acquisitions lately. Microsoft has purchased a 10-employee Berkeley company called Dynamical Systems and has invested in another company, Natural Language Inc. But the acquisition of Forethought is the first significant one for Microsoft, which is based in Redmond, Wash. Forethought would remain in Sunnyvale, giving Microsoft a Silicon Valley presence. The unit will be headed by Robert Gaskins, Forethought's vice president of product development.

Microsoft's first presence in Silicon Valley, in 1987: 250 Sobrante Way, Sunnyvale, the circa-1950 tilt-up which had housed our former Forethought startup. This building featured windows so narrow that they had apparently been designed as arrow slits, through which we could shoot our defensive crossbows against attackers.
The decision to be acquired, rather than to pursue an IPO already underway, was not easy at the time (though after the stock market crash on "Black Monday" three months later, it appeared brilliant). One hopeful sign in favor of joining Microsoft was that, where other potential acquirors had sent accountants to do due diligence by reading our bank statements and interviewing our bookkeeper, Microsoft instead sent Dave Moore to actually read through the text of all our program source code and to interview our developers. Fortunately Microsoft turned out to be an excellent fit, and our group remained intact and maintained an amazing degree of organizational independence within Microsoft for as long as that made sense.
| | |
| --- | --- |
| Northern Telecom Systems Corporation (Europe) | London, England |
| Product Marketing Consultant, "Project Vienna" | March 1983—July 1984 |
At Bell Northern Research I had spent six months commuting to Minneapolis for meetings of a small strategy group (codename "Anpac") to decide the global Northern Telecom Ltd. response to personal computers—first to the early Apple ][ and IBM PC, but more importantly to what we saw as the near future, networks of graphical personal computers such as my group had been experimenting with at BNR. After that I volunteered to join the leaders of a European subsidiary team for a crunch project to create and ship a line of networked personal computer and server products, hardware and software, designed for 9 languages. Within 14 months we shipped the first Intel-286–based personal computers in Europe, based on Microsoft system and application software (which was how I came to know Bill Gates).
Based on my experiences traveling around the world for this project and receiving hundreds of presentations from people who used overheads and slides and flipcharts (a few made on computers, most not), I began to think about the possibility of a new application to make presentations using the then-undelivered future graphical personal computers such as Macintosh and Windows—the idea which would later be the basis for PowerPoint.
| | |
| --- | --- |
| Bell Northern Research, Inc. | Palo Alto, California |
| Manager, Computer Science Research | May 1978—July 1984 |
For my first job out of school, I set up a new department at the principal U.S. R&D laboratories of Bell Northern Research, the product development affiliate for Bell Canada and Northern Telecom, Ltd. (much later NorTel Networks), just across the road from Xerox PARC at Stanford. I initiated and managed research and advanced development activities in many fields of computer science and communications, with members of my department focusing on networks of personal computers (using a PDP-10 on ARPAnet, plus Three Rivers' PERQs and Wirth's Lilith); graphical user interfaces; digital typesetting; object-oriented systems and programming (Intel iAPX-432 systems, Smalltalk); digital voice-over-IP LANs; SGML (later XML); and extensive research on public-key cryptosystems. I headed the laboratory's university liaison program, funding external university research programs ranging from computer system architecture to extending Donald Knuth's TeXTex program for typesetting Arabic scripts.
| | |
| --- | --- |
| Hackers' Conference | Sausalito, California |
In 1984 I was one of about 150 people chosen to spend the whole weekend of November 9–11 at the world's most beautiful repurposed 16-inch gun battery (Fort Cronkhite) on the Marin headlands just north of the Golden Gate, attending the original Hackers' Conference. This meet-up was initiated by Kevin Kelly and Stewart Brand, and designed by Lee Felsenstein, Bill Budge, Andy Hertzfeld, and Doug Carlston, timed to coincide with the publication of Steven Levy's book Hackers: Heroes of the Computer Revolution.
Stewart Brand claimed that the invitees were "the most interesting and effective body of intellectuals since the framers of the U.S. Constitution," a claim that escaped criticism from those attending. Invitees paid a flat $90 for the weekend, including conference, round-the-clock food and drink, and dormitory bunks. Steve Wozniak donated $5,000 for videotaping, and scraps of footage from the weekend later became a DVD. The t-shirt design was by Don Knuth's student Scott Kim.
| | |
| --- | --- |
| Western Institute of Computer Science | Santa Cruz, California |
In 1979 (after I had joined Bell Northern Research) I attended the International Course in Programming Methodology, an advanced course in programming taught by Edsger W. Dijkstra, followed by a course of forty-nine lectures from Dijkstra, C. A. R. Hoare, Ole-Johan Dahl, John Backus, David Gries, and over twenty additional members of IFIP WG 2.3. Four-week residential course, held on the campus of the University of California at Santa Cruz, August, 1979.
Dijkstra recorded his own thoughts about the course in his contemporaneous typescript "trip report" (EWD 714) now archived online at the University of Texas: "I found the UCSC [UC Santa Cruz] campus not an inspiring place, and the longer I stayed there, the more depressing it became. … We had to share the food—and what was worse: also the space in which to consume it—with the participants in other 'educational' activities—such as a cheer-leaders school and a school of American football … In short: the place breathed an atmosphere of uncivilization." "The audience was of a higher calibre than we had been led to expect … eight people from various Bell Laboratories … 30 to 40 per cent. could only be described as mathematical illiterates … ." "… my overwhelming memory from this WG2.3 meeting is the very lousy impression I got from Xerox PARC … [a place where] research in computing science is primarily viewed as gadget development, rather than as gaining insight."
Twenty-two years after this, Dijkstra was still using a pen to write his own overhead "foils" (transparencies) in his distinctive handwriting, and was thoroughly disapproving of how others had come to use PowerPoint. From another trip report (EWD 1310): [Preparing to receive an honorary doctorate in Athens, May 2001] "Fortunately I had discovered in time that I had left my prepared foils in Nuenen and the University had provided me with blank ones and pens. I used Wednesday's free moments to make new ones." [And a month later, June 2001, after appearing at a "Software Pioneers" conference in Bonn that featured 16 speakers] "I mention another way of looking at the whole happening, viz. regarding it as a 16-fold confirmation of the ruinous influence of PowerPoint, for the less of it you use, the better your lecture. … The bloody electronics only encourage the next steps of the replacement of content by form … ."
| | |
| --- | --- |
| University of California, Berkeley | Berkeley, California |
| Computer Scientist | July 1973—May 1978 |
Co-author of a textbook on programming for linguistic and humanities research, used in courses at Berkeley and Stanford and in summer sessions for college teachers in the humanities organized by the American Council of Learned Societies. Extensive consulting with faculty members on the use of computers to study literature, languages, arts, and music. Graphics consultant for the Berkeley Campus Computer Center. Chief programmer for Berkeley machine translation research (Chinese to English). Programmer of ancient Egyptian hieroglyphic fonts and typesetting for the Berkeley Late Egyptian Dictionary. Wrote a program to generate haiku which was embedded in the idle loop of a campus CDC6400 and became the most prolific poet up till that date, selection published in an anthology of computer poetry edited by Richard W. Bailey (Computer Poems, 1973). Many more projects in graphics and natural language.
| | |
| --- | --- |
| University of California, Berkeley | Berkeley, California |
M.A. 1973, in Computer Science, Linguistics, and English,
University of California, Berkeley,
Special Career Fellowship, Ford Foundation, 1968–1973.
| | |
| --- | --- |
| University of Southern California | Los Angeles, California |
A.B. 1968, in English Literature,
University of Southern California,
Elected to Phi Beta Kappa,
Order of the Palm award at graduation.
A survey of the state of Desktop Presentation software in 1989. This part I, for Macintosh, includes a demo of PowerPoint 2.0 (at 09:15), presented by the GBU's Connie Clark (Wizard #26) who demonstrates how PowerPoint differed from its competitors, represented here by MORE II, Aldus Persuasion 2.0, and Macromind Director. An episode of the "Computer Chronicles" television series, hosted by Stewart Cheifet and Gary Kildall.
Link to video at Internet Archive
A survey of the state of Desktop Presentation software in 1989; this is part II, for IBM PC. PowerPoint had not yet been released for Windows, so this survey documents its competitors who would be dramatically disrupted the following year. The old guard is represented here by Harvard Graphics 2.12, Draw Partner, Freelance Plus 3.01, Graph Plus 1.3, Storyboard Plus 2.0, GEM Presentation 1.1, AutoDesk Animator, and Xerox Presents. (Some of these are on Windows 2.0, illustrating why we considered it unacceptable for PowerPoint.) An episode of the "Computer Chronicles" television series, hosted by Stewart Cheifet and Gary Kildall.
Link to video at Internet Archive
A survey of Windows 3.0 and its competitors in October 1990. The Windows 3.0 demo includes (at 19:30) a demo of PowerPoint 2.0, presented by the GBU's Cathy Harris (Wizard #28) who demonstrates how PowerPoint for Windows is virtually identical to PowerPoint on Macintosh. (This is a good example of how the major 3.0 upgrade to Windows was introduced by using PowerPoint 2.0 demos to show off that Windows had finally caught up to Mac.) Other systems include DR-DOS 5.0 and GEM from Digital Research, GEOS and Ensemble from GeoWorks, and ViewMax. An episode of the "Computer Chronicles" television series, hosted by Stewart Cheifet and Gary Kildall.
Link to video at Internet Archive
| | |
| --- | --- |
| Comedy videos to punctuate Microsoft company meetings were made by individual business units using strictly internal resources and talent (and amusing only to insiders). This one was shot in 1992 with cast and crew of GBU Wizards at our "Sand Hill Road Studios" in sunny California for a large Apps Division meeting to be held in rainy Redmond. Written, produced, and directed by Robert Safir, GBU Wizard #14. | |
"An ode to our favorite office presentation program …
made using said program."
Words by Suite Dreams
(Sara Schaefer and Erik Marcisak)
Vocals by Cock Lorge
Edited by Sara Schaefer
| | |
| --- | --- |
| "Don McMillan gives a short comedy sketch around PowerPoint presentations and the common mistakes that people make." Don believes that he is "the only comedian working in PowerPoint"; that's clearly not true (every day you see quite a few in random meetings), but he's certainly a lot funnier than the other ones. | |
| | |
| --- | --- |
| Delivered as the keynote speech at the Ig Nobel Prize Ceremony, 4 October 2007, Sanders Theater, Harvard, and previously published in the Annals of Improbable Research, vol. 12 no. 5 (September-October 2006). A PDF of the article is available. Presented at the American Academy of Arts and Sciences [AAAS] humor session, 16 February, 2007. | |
Flatland, by Edwin A. Abbott [A. Square, pseud.], 1884. (Original publication digitized.) "Because (almost) all of the characters in Flatland are two-dimensional geometric shapes, PowerPoint actually seemed like a natural tool to use to tell the tale in a more visual way to a modern audience." (Not a video, but a PPT presentation—39 MB.)
Remix/Design/Score by Zeus Jones
Robert Gaskins invented PowerPoint. He managed its design and development at a startup, where the idea attracted the first venture capital investment ever made by Apple Computer. PowerPoint was released for Macintosh in 1987, and soon afterward, it became the first significant acquisition ever made by Microsoft, who set up a new business unit in Silicon Valley to develop it further. He headed this new Microsoft group for another five years, completing versions of the PowerPoint product which contributed to the explosive early growth of Microsoft Windows and to the dominance of Microsoft Office.
Photos of PowerPoint People

A PowerPoint slideshow of 100 slides, from photographs taken in 1992 featuring some of the Microsoft Graphics Business Unit people who are responsible for PowerPoint, the "Wizards of (the other) Menlo Park," along with part of Hunk and Moo Anderson's art collection displayed throughout the GBU building at 2460 Sand Hill Road, Menlo Park, California, in the oak-covered hills overlooking the Stanford campus.


(The slideshow is very large, 31.5 MB; it will open in your browser, or can be downloaded. View in PowerPoint or use the free PowerPoint Viewer, which will open all presentations linked from this website.)
This set of slides was first shown by Professor Ken Goldberg to introduce an Art, Technology, and Culture Colloquium held at UC Berkeley for David Byrne's "I ♥ PowerPoint" presentation, 07 March 2005.
David Byrne's "I ♥ PowerPoint"
an Art, Technology, and Culture Colloquium held at UC Berkeley on 07 March 2005, with invited guests Bob Gaskins and Dennis Austin
"In one of the most unusual PowerPoint presentations ever given in Dwinelle Hall, ex-Talking Head David Byrne poked fun at the popular Microsoft software's bullet-point tyranny and Autocontent Wizard inanity. But he also defended its appeal not only as a business tool, but also as a medium for art and theater."
" … [Engineering Professor Ken] Goldberg's preamble was in the form, of course, of a PowerPoint presentation: one with snapshots of businesspeople in offices. They turned out to be 1990s photos of the original team who created PowerPoint, led by Berkeley alumnus Bob Gaskins and Dennis Austin. When Goldberg announced the two men were in the audience — 'To us engineers, you're rock stars!' — the applause was almost as loud as it had been for Byrne."
From "David Byrne Really Does ♥ PowerPoint," by Bonnie Powell, with photos by Bart Nagel.
David Byrne's Journal, Mar 2005:


"Did the PowerPoint talk in Berkeley for an audience of IT legends and academics. I was terrified. The guys that originally turned PowerPoint into a program were there, what were THEY gonna think?" "Bob Gaskins … did tell me afterwards that he liked the PowerPoint as theater idea, which was a relief."
—David Byrne

See also: Envisioning Emotional Epistemological Information, by David Byrne (hardcover with DVD, Steidl and Pace/MacGill Gallery, 2003), a large-format art book of Byrne's PowerPoint images with essays and a DVD of his PowerPoint presentations with original music soundtracks, based on museum exhibitions.


"I have been working with PowerPoint … as an art medium for a number of years. It started off as a joke … but then the work took on a life of its own as I realized I could create pieces that were moving, despite the limitations of the 'medium.' "
—David Byrne (The book's website has more, along with installation photos from New York and Tokyo.)